(PRWEB) September 24, 2014
Hyundai is again partnering with all the engine wizards of Bisimoto Engineering to create a 1,000 horsepower Genesis Coupe for the 2014 SEMA show inside Las Vegas.
Bisimoto Engineering is recognized for extracting awesome, reliable force from production-grade, everyday powerplants, as well as the Bisimoto 2014 Hyundai Genesis Coupe is not a exception, with 1,000 horsepower produced from a turbocharged Hyundai factory based 3.8 litre V6 engine. The Bisimoto powertrain utilizes newly crafted internal components, utilizing the naturally-aspirated Genesis Coupe 3.8 R-Spec engine because its core building block. The Bisimoto concept is made for the security of the street automobile yet with all the outrageous energy of the no holds barred racer.
The key to producing reliable, excellent horsepower motors goes perfectly beyond the shape, technology plus fabrication of performance components. The core powerplant need to be sturdy enough to withstand advanced modifications. The Genesis Coupe 3.8-litre Lambda engine is a completely robust powerplant, plus Bisimoto Engineering is excited to develop it to its full potential for the rigors of competitive motorsport, mentioned Bisi Ezerioha, owner of Bisimoto Engineering.
Complementing the extensive function beneath the bonnet, Bisimoto created a custom Electric Blue paint, Denmatic shape images package, ARK bonnet plus Carbon Fibre deck lid. From the back view, a Burns stainless exhaust plus Bisimoto back badge round out the graphic impact.
3.8 LITRE LAMBDA ENGINE MODIFICATIONS

����Stock Hyundai Lambda 3.8-litre V6 engine
����Bisimoto-developed internal components:
o����Steel connecting rods

o����Intake gasket

o����Injectors

o����Level 2.4 camshafts

����Twin Bisimoto/Turbonetics BTX6462 turbochargers
o����Godzilla blow-off valve

o����Dual RG45 wastegate

����Arias forged pistons
����Golden Eagle sleeves
����WPC metal surface treatment
����Supertech valvetrain
����Vibrant VanJen clamps plus stainless hardware
����Magnafuel 750 gas pump
����ARP head, key, plus wheel studs
����Portflow custom headwork
����AEM Infinity EMS
����Custom smart ignition coils
����NGK Iridium spark plugs
����Pur�l Elite artificial oil
����Spearco intercooler
����Griffin radiator
����Kinsler gas filters
����Bisimoto-spec Action Ironman clutch
CHASSIS MODIFICATIONS

����Bisimoto roll cage
����Progress coil-over suspension plus anti-roll bars
����Drive Shaft Shop 5.9 axles plus driveshaft
����Incurve 20×9.5 plus 20×11 aluminum wheels
����Toyo Tires R888 R-Compound tires
INTERIOR MODIFICATIONS

����Buddy Club racing seats plus harness
����Bisimoto reservoir socks
����Racepack IQ3 dash
����Bisimoto oil cap
����Odyssey dry mobile battery
����Rywire mil-spec harness
����G&J braided lines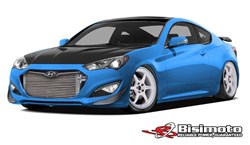 Recommended: